This and That 2
by Toni Gilbert
Life is good here in the Mid-Willamette Valley; the sun is shining, the birds are calling to their mates and there is a mighty flurry in the oak and cottonwood trees surround our property.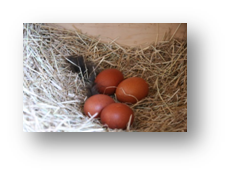 Lewis built our chickens a big pen with lots of grass inside so that they won't scratch around in my flowerbeds. It can be quite disheartening to see the damage they do but, what can I say, they don't have a clue about flowers. At this time of early spring, with no flowers up, I do occasionally allow them into my space because there are all kinds of baby slugs and newborn bugs. I figure it is just another way they earn their keep.
My brother, Tom Gilbert, is staying with us to recuperate from liver cancer. So far, so good, the most recent test shows no evidence of his cancer. I give him energy work, Tarot counseling and good meals complete with multi-vitamins and supplements along with a good dose of D3. He is reading one of Dean Sluyter's books "The Zen Commandments" and a couple other equally enlightening books. He is learning to rest when his body feels tired and is noticing his guilt when he does. He is also out in Nature working in my very large yard.
The grandchildren are growing at an enormous rate and I feel that our time together is going too fast.  My grown children, complete with their challenges, are physically strong and mentally and spiritually healthy. Who could ask for more?
Workshop Offering
If you are thinking of getting certified in Tarot Counseling, now is the time to get signed up for my Archetypal Tarot Counseling(TM) course http://www.tonigilbert.com/workshops/. It is three years long and is focused upon the use of Tarot cards in wellness counseling. You need not be a nurse to benefit from this perspective. We meet physically three times. We begin at the end of June.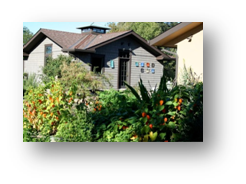 This year we will meet in the Temple of Claire and then will meet for the next 2 years at Breitenbush www.breitenbush.com .
Also free on the workshop page: A print out of a chart that compares the Chakra system with Maslow's hierarchy of needs.
My Book in Progress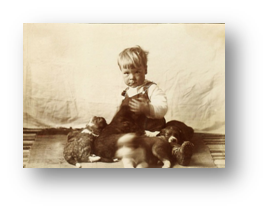 My great-grandparents on both sides of my family pioneered in the Oregon/Washington territories. Currently, I'm working on a coffee table book of my maternal grandmother's photos. My grandmother was a professional photographer and a teacher before she married at 27. After which she stayed home…but had her camera. She left a treasure trove of photographs from homestead life. This one is of my uncle Lewis who was born in 1912. I have been working with Photoshop to restore the hundred year old photos. It is a fun project and I expect to have the pictures and the text done by the end of this year. Then I will check with my current publisher Schiffer Books and we shall see…..
Bay Area Tarot Symposium
It was good to see new and old friends at the Bay Area Tarot Symposium. I was so impressed with the line-up of speakers that I wrote the article San Francisco Bay Area Tarot symposium: An Intuitive art Comes of Age for Perspective, magazine The Associations Humanistic & Transpersonal Psychology October/November 2012.
This article is about the maturation of the Bay Area Tarot Symposium and of Tarot as an intuitive art. It is also a call for Tarot cards to be recognized as a profound tool with which to move our consciousness toward a more transpersonal vision in mental, physical, and spiritual health. If you are interested in giving Tarot reading or counseling a try, there is a sidebar that lists a few top tarotists and contact information.
You might also be interested in my article Astrology, Tarot and Maslow: Using the Esoteric Arts for Self-Development for Perspective magazine of the Associations Humanistic and Transpersonal Psychology.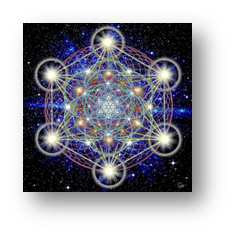 In this article I use the Christine Payne Towler's New Moon Tarotology system, Maslow's pyramid and my evaluation method for the archetypes in counseling. The use of these esoteric tools together with an intuitive interpretive process gives you an idea of how to use the archetypal energies that are available to us at any given time.
Holistic Nursing
I'm really proud of our fledgling Oregon Holistic Nursing Association, an organization that I helped birth into being. Please join us at our 7th annual retreat and conference October 13-16 at Breitenbush Hot Springs www.breitenbush.com. The theme this year will be "Facilitating Conscious Transitions Through Holistic Practice. " For more information and registration, please go to the events section of our web site: www.oregonholisticnurses.org. You don't need to be a nurse to attend, all holistic practitioners are welcome.
My personal site www.tonigilbert.com (#43) and the Oregon Holistic Nurses Association web site (#34) were mentioned in Best Nursing Sites of 2012. Both, I and Deonne Wright the current OHNA director, had a hand in developing www.oregonholisticnurses.org site. Go to the sites and click onto the blue logo to see who else is there.
I'm seeing more of an easy interest in the use of Tarot images in wellness counseling. I have promoted its use for over 10 years to holistic nursing, humanistic and transpersonal psychology and the alternative community. It was rough going at first and, in the nursing world, sometimes my requests for an interview or presentation were ignored. However, the like minds in the profession kept me going. So far this year, I was invited to do a radio interview with holistic nurse Elizabeth Scala (see Radio) and next, on the third Saturday in May, I will present "Using Archetypal Symbols as a Therapeutic Tool" to the AHNA Oregon Chapter of holistic nurses at Portland Community College. One of the challenges of holistic nursing is to demonstrate the change you want to see in the world.
Radio
Two new radio shows are up on my personal site at www.tonigilbert.com click on "radio". They are Tarot Works Radio Show with Jeanne Fiorini where we discuss the body/mind connection, archetypes, healing, and personal potential. And my first nursing radio show Living Sublime Wellness Radio Show with Elizabeth Scala.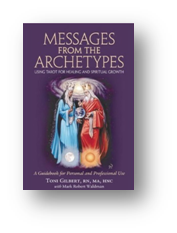 And a third special offer from Global Spiritual Studies my book "Messages from the Archetypes" and a radio interview not offered on my web site. This one is with Linda Marson skyping me all the way from Australia. Check it out on http://globalspiritualstudies.com/shop/shipping-rates/books/messages-from-the-archetypes/.
Poetry
Many years ago, I wrote poetry as a healing exercise when I was working through childhood issues and gaining spiritual perspectives. Lately, I have been publishing them through the newsletter of the Oregon Holistic Nurses Association. You may see some of them by going to the web site www.oregonholisticnurses.org and clicking onto the newsletters. I will share one with you here. I wrote this in my journal after observing and being taught about Zen by my small furry guru.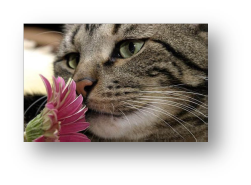 Ode to the Cat
Oh, to be like the cat.
She cares not for where
She's going
Or what happens to her.
The cat cares nothing for where
She's been.
She lives in the moment
And is her own best friend.
Toni Gilbert, 1978