By Toni Gilbert, ASN, MA, ATC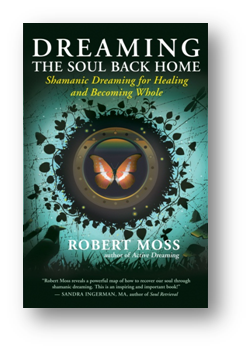 There are many paths to enlightenment. One such path is the inner journey, the dreamer's journey, a journey that consists of levels of consciousness beyond what we know as waking reality. These levels of consciousness contain the images of fierce and gentle creatures, young and old selves, past and parallel lives as well as a multitude of abstract multisensory experiences.  In this great little book, the author Robert Moss teaches the reader to use the mysterious dreamtime. He touches on recognizing symbols and synchronicity and leads us through the dreamer's world, showing how to connect the dots between our inner imagery and our life stories.
In the introduction Robert Moss reminds us that we are more than our body and brain. He shows by examples that we have stories going on in our heads during our current circumstances and that those stories guide us in our life.  He says that somewhere along the line of living, we forget our life's purpose and get lost. It is then that we run into all kinds of trouble. Because bad things happen to us, we lose our vital essence and we may feel bad and want to die. It is during the tough times that a part of us may actually succeed in dying. This is what is known to shamans as soul loss and to the mental health professionals as dissociation. From a lifetime of independent scholarship and experience and a quarter of a century of dedicated practice, the author gives the reader an antidote to this problem.
Robert Moss begins by giving us the history and practice of shamanism. Basically, the shaman is a spiritual practitioner who has mastered the art of journeying beyond the body to communicate with spirits and souls of both the living and the departed. He/she does this to facilitate their healing. Typically the shaman are dreamers, who receive their calling from dreams and become frequent travelers to the Dream time. For instance, they may use their dreaming to diagnose a patient and select appropriate treatment. Moss describes the Swiss psychiatrist Carl Jung as a shaman of the West and goes into detail about how Jung used information from the unconscious mind to craft a depth psychology in which dreaming is central.
Moss provides us with a history of dreams and perspectives from several cultures from the Old English and Scottish to the Hawaiian. As a plus, the author writes about, Carol, his dream partner of twenty years and tells how they work and dream together.
There is a section on understanding soul loss. Briefly, he says at our interior, we have a multitude of selves and we must build helpful bridges between them in our self-healing. Dreams reveal these selves that are aspects of psyche that may have been dormant or missing from waking consciousness. The dream itself is your doorway into a past situation that caused the soul loss. Reentry into the dream is important to reclaiming your vital energy and becoming whole.
The author helps the reader learn to use techniques and images of the tree in raising consciousness and in grounding. The use of projection of the animal spirits is also covered, illustrating the power of transfiguration in the reshaping of our energy bodies into animal bodies for the purpose of using their instincts for life learning. One chapter is all about horses in our dreams. There is a discussion about the condition of a horse in a dream as symbolic to the state of our bodies and our vital energy.
Moss' book discusses soul loss in terms of trauma in early childhood. Another chapter's theme is how to find and talk to the lost inner child ensuring that they return to your body in present time. There are tips on how to welcome the lost part home and how to use dreams after the recovery. The author tells of inner guides and mentors, which come to our aid during the dreaming.
The author describes how to use ritual and dreams in deep ancestral healing; healing all the family across multiple generations. The author states that our ancestors live in our bodies and that their templates may control our habits and behaviors unless we recognize and break the pattern or mold. The goal is to cherish soul connections to wise ancestors, and even have relationships with them, but we must start by clearing unhealthy legacies and energy attachments.
Part of the book is devoted to entering a secret library, a portal, from dream or memory that will allow you to move in your imagination to a place where you can access any kind of information that interests you, and any subject that attracts your attention. You may even be able to look in your "Book of Life", the book that will help you know more of who you are, including your connection with personalities and sacred contracts in other lives, past and future. The reader will also learn how to use Tarot cards to trigger images of past lives and to "free our imagination and expand our understanding of the many aspects of the self."
Then there is information on Dream Archaeology, which involves melding the best tools of analysis and scholarship with the experiential techniques of active dreaming. Moss claims that we can enter the life situation of personalities in the past or future who may be related to us in various ways—as ancestors or descendants, our larger spiritual families and as embodied aspects of ourselves living in other places and times. Moss claims that we embark on these journeys of the imagination "becoming more than we ever were before, embodying more of the Greater Self." He ends with a discussion on "spiritual enthronement" and says that growing the soul requires courage and an open heart to take the creator's leap and bring something new into our lives and our worlds.
Throughout the book there are multiple meditation exercises. For example, there is a journey to the cave of the animals and one about birds that is used for time travel. The chapters also include many stories to entertain and teach the reader. Not only does this book deliver, but it is easy to read and the stories and meditation exercises illustrate the author's dreaming processes. This book is a "must read" for the intermediate student of the inner realms, the experienced practitioner looking for more.
Toni Gilbert, ASN, MA, ATC is a transpersonal counselor with a background in holistic nursing. As a professional with a formal education in nursing, psychology, and transpersonal studies, she offers clients an array of healing arts techniques to enhance wellness and prevent illness. She is the author of Messages from the Archetypes: Using Tarot for Healing and Spiritual Growth, published by White Cloud Press and Gaining Archetypal Vision:A Guidebook for Using Archetypes in Personal Growth and Healing by Schiffer Books. She has written for national and local publication. You may see her published articles on her personal web site www.tonigilbert.com She is also the founding director of the progressive Oregon Holistic Nurses Association www.oregonholisticnurses.org  serving California, Oregon and Washington.