One winter evening, as I looked out the east window of my Oregon home, my consciousness focused upon the beauty of the full moon nestled in soft clouds. It was an ancient cosmic scene, and this night, the evening pearl was balanced between two tall fir trees; dark silhouettes that were the most perfect of frames. In order to get more "into it", I placed a pair of high powered binoculars up against the window and looked again. I saw much more than before. Up close, the misty clouds, slowly moved around the firs in a gentle embrace that seemed magical, like the mist was rolling forth from the moon to all of Nature. At the same time, I felt a gentle loving feeling that seemed to emanate from the scene I was witnessing. My educated mind told me this was a reflection of my own feminine. I stood, for a while, wonderfully transfixed.
At a first glance through the binoculars, the craters on the moon resembled the frozen flowers of my winter garden, lovely symmetric skeletal patterns that tell the story of their organic structure. Of course, the moon's history has been much different, struck repeatedly and scarred but still solidly on her nightly path. She is certainly a fitting symbol and metaphor for the feminine at this time in our collective history.
Later on that night, I looked out the window again. The moon was high overhead and still peeking from behind softly moving, wispy clouds.  My husband and I keep our home dark at night (with a few low intensity lights) because we enjoy the darkness and find it a welcome change to the light of day. In the dark, we can fully rest and meditate. Visitors may come and go, benefiting from the darkness as well.
Remembering my Nature experience earlier in the evening, I felt a need to sit in the moonlight coming through the windows. I pulled my wooden rocker to the most beneficial placement and sat down.  Instantly, I felt the "energy" of the moon upon my body and I felt….nurtured as I closed my eyes.
In my imagination the mists, that I saw earlier in the trees, now gently surrounded me…ever so softly. At the same time, I felt the maternal nurturing energy of the moon slowly surround and embrace my small self. I thought, "this feeling can only come from a mature feminine source, the grandmother." I took advantage of this healing moment to breathe in the healing energy of the moon and send it throughout my body—on the out-breath negativity was released. Again and again I breathed deep and sent the moon energy to various parts of my body for nurturing.
When I felt do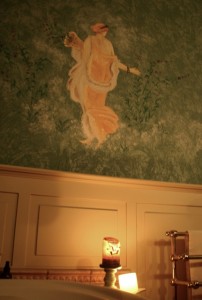 ne, I sent a prayer of gratitude to Grandmother Moon for lovingly reflecting so that we, the grandchildren, might see our way through the shadows of our nights.
At the end of my evening, I took a hot bath in a beautiful and fragrant room. Candlelight played off the honey-toned tiles and lit up the murals on the wall that display the actions of ancient herb and flower gatherers. As I slid in to the clear clean water, I felt like a queen entering my bath. It was one of those, life-is-full-of-simple-pleasures-and-I-can't-complain-about-a-thing, type moment. "Ahhhh, Self-care," I thought, "is all about honoring the vessel of the everlasting Spirit; the Spirit of life itself."
Blessings to All, Toni
www.tonigilbert.com
toni@tonigilbert.com