The planet Saturn represents many archetypes such as father time, old man tradition, the grim reaper and the Lord of Karma. Saturn is the ruler of limitations, fears, seriousness, responsibilities, burdens, and lessons. Saturn also stands for civilization, government, structures, harvests, prestige, maturity, and order.
The Saturn Return is an event of time; the time it takes the planet Saturn to make one orbit around the sun. Astrologers believe that Saturn "returns" to the degree occupied at the time of birth approximately every 29.5 years. At that time, you are faced with a major developmental threshold and into the next stage of life. Many major life milestones seem to happen for people around the ages of 27-30, 58-60, 86-88, etc. For instance, astrologers theorize that around the thirtieth birthday marks a major rite of passage to the actual beginning of adulthood, self-evaluation, independence, ambition, and, if you have done your homework, self-actualization.
With the first Saturn Return, you leave youth behind and enter adulthood. By the time you get to the second Return, 30 years later, you have become a more mature version of yourself. Some of us will see the third Return and, as the lifespan increases, someday maybe even other Returns.
My first Saturn Return represented a test of character. I gathered up my courage and established a few professional goals. In doing so, a better vision of where I wanted to go was established and I entered college.
My second Saturn Return has been different. Nearing 60 years old, I began to feel an internal slowing down, a need to stop striving and doing. Accustomed to old habits, it has been difficult to slow down because part of me, the ego, wants to keep going. In 2010, after a year of several age-related injuries and illnesses, I finally "got it." If I keep up the younger pace, my body starts breaking down, bringing my working self to a halt…or at least a slower pace.
My ego and I have been through a lot. Today the ego lies like a docile lap cat and a time of rest and reflection enters.
Looking back, all of my developmental milestones required surrender. Challenges occur and to surmount them, one must give up, trust the natural course, and get your attitude to a place of… to heck with it. Interestingly, this simple and yet difficult mind-space, sets you upon the next stage of your development. One must continually give up what the ego wants. Whe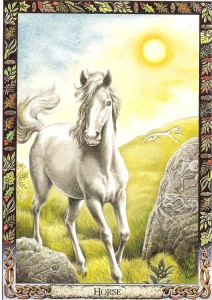 n we do, viola…another brain pathway opens and your consciousness expands.
As I was thinking about all the above, I decided draw a card from The Druid Animal Oracle deck. The image on the card was a beautiful gray filly. "Yes," I thought, "that's how I feel…great to be alive and, like the horse in the picture, there is a certain freedom." Then, I thought "but wait…the card was reversed when I first drew it…… So, what meaning would this have?" A familiar refrain began to play in my mind "The old gray mare, she ain't what she used to be." ….One of those cosmic jokes, no doubt.
Blessings to All, Toni
toni@tonigilbert.com
www.tonigilbert.com