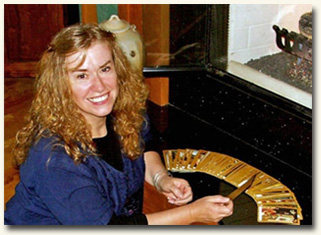 Below, you will find a summary of my education, certifications, and experience. To skip to a specific section of my biography, select from the following options:
Education
Chemeketa Community College

Associate Degree Science, graduation 1983.
Oregon Registered Nurse, (Ret.)
Marylhurst University

Bachelor of Art and Psychology, graduation 1993

One year of graduate study in Art Therapy
Institute of Transpersonal Psychology (ITP)

Master's of Arts in Transpersonal Studies, graduation 1997.
Focus in transpersonal psychology, religious studies, mind-body consciousness
Certifications

The Uses of Imagery in Medicine
(one year)
By Jeanne Achterberg Ph.D. and Frank Lawlis Ph.D.

Wellness Counseling and Mind Body Consciousness (one year)
Designed for ITP by Drs. Lawlis and Achterberg

Interactive Guided Imagery (13 hrs)
By The Academy for Guided Imagery

Nurses Certificate Program in
Interactive Imagery (one year)
By Terry Miller, RN, MS and Susan Ezra, RN


Holistic Nursing (one year)
By the American Holistic Nurses Association

Tarot Counseling (three years)
By Christine Payne-Towler

Clinical Aromatherapy
By RJ Buckle Asso.
Past & Present Associations
Employment
Workshops and Speaking Engagements
6-96 to present.
Description: As a transpersonal counselor, I offer classes and presentations on the healing arts that I have used for many years. These healing arts include guided imagery, energy work, meditation, expressive arts, Tarot, dream interpretation and mind-body consciousness.
Past employment and volunteer duties
Jefferson Historical Society & Museum, Past Chair of design committee
Oregon Holistic Nurses Association, Founding Director
Alternative Journal of Nursing, Past Editor
Copyright 2003-2018 Toni Gilbert. All Rights Reserved.
Site Maintained by
KLH Technology Solutions
.