Opening Theme: Walk with Me by Mary Youngblood



to play the complete song.
Toni Gilbert, a holistic nurse, uses Archetypal Tarot Counseling as a way to help people achieve self-awareness and self-mastery.
If you are in personal crisis, due to illness, injury or difficult life situations, you can be aided by Tarot cards, a 600 year-old system of imagery. Toni uses the archetypal images on Tarot cards to raise your consciousness and help you achieve insights. As a trained counselor, she understands how the cards uncover your present states of mind and assist you in finding answers to your questions.
On this show, you will hear Toni describe the images on the faces of the cards, which were drawn specifically for you. She will lay the cards out on her table as she talks about the cardís archetypal images and how they may relate to your question and life situation. During the course of this radio session, Toni may ask you to close your eyes and visualize the card in your imagination.
Interpreting your nighttime dreams is another way to achieve personal growth. You may want to ask Toni to help you find the symbolic meaning and wisdom of a recent dream.
The imagination contains a multitude of archetypal images willing to help you achieve insights about your lifeís many issues. By using a technique called guided imagery, Toni can help guide your mind to a level of consciousness where you can talk to one of your inner guides.
Easy and convenient, the on-line sessions allow you to receive counseling in the comfort of your own home. Hereís how to make an appointment:
1. Phone (541) 327-7749 or e-mail toni@tonigilbert.com with an explanation of your special needs.
2. An appointment will then be scheduled for a consultation.
Show Theme Music: From the CD, Beneath the Raven Moon, track Walk with Me, by Mary Youngblood on the Silver Waves Records label.

Listen to Toniís show now.



Jerry and Toni discuss what is involved in healing within the multiple dimensions of the self. Then, in Toniís office in Oregon, Toniís client Sharie talks about her chronic pain, and asks Toni for more information about her ďjourney to recovery.Ē




to visit Toniís personal web site.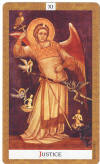 Click images above to enlarge cards drawn in this week's reading.
Golden Tarot by Kat Black, Copyright (c) US Games Systems, Inc., www.usgamesinc.com.
If you would like to be part of the show, email Toni at toni@tonigilbert.com.
Certification in Archetypal Tarot Counseling sm
Disclosure Statement: Counseling offered byToni Gilbert through this web site is not meant to replace traditional medical treatment or psychotherapy, but is complementary to other treatments. If you are under the care of a primary healthcare provider, he or she will have first consideration in any decisions regarding your care.

Archive of Previous Shows
Show 106: During this show, Toni talks to Jerry about how she uses Tarot cards with clients. This time, the questioner, Sara from Oregon, is present in Toniís office. Sara, who is going through a divorce, asks what she can do to stay in integrity through her divorce even though she is hurt and angry. Toni and Sara demonstrate the projection technique that Toni uses when she sees clients in person.

Click images above to enlarge cards drawn in this week's reading.
Copyright (c) Voyager Tarot, James Wanless, PhD
Show 105-1: Segment One: Jerry and Toni continue their discussion regarding guided imagery and healing. Jerry talks about his inner experiences and recent insights about honoring life.

Show 105-2: Segment Two: Toni uses Tarot cards to counsel Sam from Portland Oregon. They discuss ways to help Sam get in touch with her feelings and her own knowing and how to search within for answers to her most pressing questions.

Cards from this week's reading, in order drawn: Emperor, Child of Cups, Woman of Crystals, Man of Crystals. Click images above to enlarge.
Copyright (c) Voyager Tarot, James Wanless, PhD
Show 104: During this half hour, Toni guides Jerry's imagination to an inner healing place using a technique called guided imagery. Toni is surprised when she hears where Jerry's healing place is located. Then, Toni answers an email question from a listener about how she can shuffle and ask a question of Tarot cards for others at a distance.


Show 103: This week's It's All In The Cards Show with Toni Gilbert features Toni using the TAROT cards to help Jerry with a healing session with his eyes, plus a lively debate over masculine and feminine archetypes.

Cards from this week's reading, in order drawn: Letting Go, Traveling, Patience, Creativity. Click images above to enlarge.
From Osho Zen Tarot Copyright (c) Osho International Foundation, Switzerland. www.osho.com/tarot
| | |
| --- | --- |
| | Show 102: Toni also interprets dreams. Jerry tells Toni about his last nighttime dream, and she talks to him about the meanings behind his dream symbols. Jane from Boulder, Colorado calls the show at 918-682-2630 and asks Toni questions about Tarot Cards. On the next program, Toni once again does a healing session with the cards. Music: Bob Dylan - Like A Rolling Stone ( re-issue/BMI ). |
| | Show 101: Toni talks with Jake in Montana about her recent hospital stays, and the cards reveal information about healing and other elements involved in her recent illness. Music in this segment: Cass Elliott- Dream A Little Dream of Me - (BMI-reissue). |